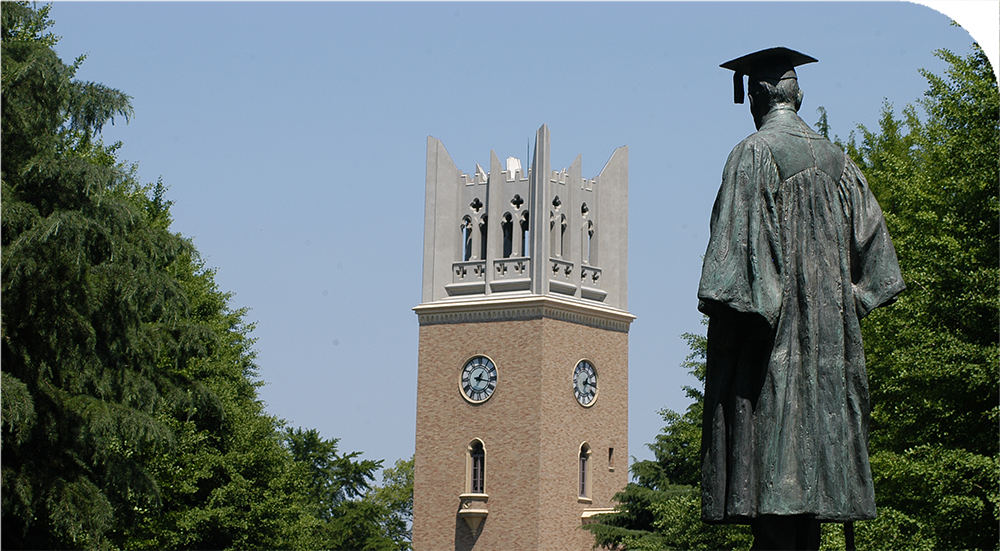 Waseda University
Tokyo, Japan
Founded in 1882 by Shigenobu Okuma, once prime minister and regarded as the father of Japanese national modernization, Waseda University is one of the most prestigious universities in Japan. It comprises thirteen undergraduate, seventeen graduate and five professional graduate schools covering most areas of social and natural sciences, liberal arts and engineering, with over 54,000 students and 5,000 faculty members on eight campuses, four of which are located in central Tokyo.
Currently, there are more than 5,000 foreign students enrolled at Waseda. The number of foreign students at Waseda is the highest among universities in Japan. The university has agreements with 868 organizations in 94 countries to date, concerning student and faculty exchange programs. Furthermore, there are 'double degree' programs with leading universities in Asia-Pacific region as well as network-type cooperative colloquiums via the Internet, to support the student and faculty members involved in the exchange programs.
Waseda University has a large number of alumni, about 640,000 in Japan and around the world. Waseda is famous for its distinguished graduates dispersed not only across business and political circles in Japan but also worldwide. So far, seven prime ministers of the Japanese government have been Waseda alumni. Waseda graduates are very active and influential in such field as politics, law, journalism and mass communications, art and sports. Among them are excellent entrepreneurs contributing to scientific breakthroughs and creating globally prestigious firms as well as current and former presidents and CEOs of top multinational companies. The university has 400 alumni associations throughout Japan and more than 1,100 including alumni associations within companies, not to mention the 40 Waseda associations overseas.
Website: http://www.waseda.jp/top/en/

VSE Season 1, 2022-23: Courses offered by Waseda University
Important – Read Before Applying
Courses offered by Waseda University at VSE Season 1, 2022-23 bear no credits for APRU VSE students. Transcript will not be issued therefore credit transfer will not be possible.
Application Deadline
Students must submit an application to the VSE Central Office before:
Aug 16, 2022 12:00 noon Hong Kong Time (UTC+8)
Course Information
Course information posted on this page are provided by the course offering university and may be changed or updated anytime without prior notice.
Click on the course titles to reveal full course details:
Number of Credits
0
Offering Department
School of Social Sciences
Course Teacher
Prof. Atsushi HAMAMOTO
Language of Instruction
English
First Day of Class
Oct 4, 2022
Last Day of Class
Jan 24, 2023
Course Component
Lecture
Mode of Teaching
Synchronous
Meeting Time
Tue 1040-1210
Time Zone
UTC+9
Course Description
This course is designed to provide students mainly with a sociological perspective on the concept of modernization and development. In this course, we will focus on the Asian region and examine the experience of modernisation in each of socio-cultural contexts.

Students will work on case studies of one country or region from Asia throughout the course. These will be mainly group-based activities. Each case study group will be made up of a combination of students from their own country/region and those who are not.

After some warm-up activities, the course will be divided into two main parts. The first will be an overview of the modernisation process in each country and region, analysing what political and economic systems have been adopted and what ideologies, slogans and discourses have driven people to modernisation. We will also examine what aspects of society have been transformed during the development process.

Secondly, we will argue typical infrastructure construction projects to grasp the complex reality of adverse impacts through a case study approach. Highways, high-speed railways, airports and dams are in themselves civil engineering structures that enrich people's lives, but on the other hand, they often cause serious social friction over land expropriation, environmental destruction and so on. We would like to consider how Asian countries and regions have managed these problems in the process of development.
Course Outline
18G0000178

※The information of the courses in the link is the information for Host University students. It is just for the information of course contents. Credits and Evaluation are not applied to APRU-VSE students.
Course Prerequisites/Restrictions
N/A
Points to Note for Students
Students are expected to do the reading thoroughly before the class meeting for which it is assigned, and to participate actively in-class discussion and discussions on the discussion board. Students are also required to prepare oral presentations.
Fees to be Borne by Students
N/A
Number of Credits
0
Offering Department
School of International Liberal Studies
Course Teacher
Prof. Masumi NAGASAKA
Language of Instruction
English
First Day of Class
Oct 4, 2022
Last Day of Class
Jan 24, 2023
Course Component
Lecture
Mode of Teaching
Synchronous
Meeting Time
Tue 1300-1430
Time Zone
UTC+9
Course Description
This course provides a general overview of the history of critical philosophy in the modern period as a succession of practices of scepticism and of attempts to overcome scepticism.

By understanding that Western philosophy has developed by the practices of casting doubt on so-called self-evident matters and by successive attempts to overcome these scepticisms, students are expected to develop a critical attitude towards matters which they have previously vaguely accepted.
Course Outline
210PR20100

※The information of the courses in the link is the information for Host University students. It is just for the information of course contents. Credits and Evaluation are not applied to APRU-VSE students.
Course Prerequisites/Restrictions
N/A
Points to Note for Students
N/A
Fees to be Borne by Students
N/A
Number of Credits
0
Offering Department
School of International Liberal Studies
Course Teacher
Prof. Masumi NAGASAKA
Language of Instruction
English
First Day of Class
Oct 4, 2022
Last Day of Class
Jan 24, 2023
Course Component
Lecture
Mode of Teaching
Synchronous
Meeting Time
Tue 1445-1615
Time Zone
UTC+9
Course Description
This course provides a general overview of how the relationship between thought, knowledge and feeling (judgement of the beautiful or the sublime) is considered in modern Western philosophy.

By learning to distinguish not only between thought and knowledge but also between cognitive judgement and aesthetic judgement, students are expected to become capable of reflecting critically on their own presupposed knowledge and discovering the role of imagination.
Course Outline
210PR31300

※The information of the courses in the link is the information for Host University students. It is just for the information of course contents. Credits and Evaluation are not applied to APRU-VSE students.
Course Prerequisites/Restrictions
2nd year or above
Points to Note for Students
N/A
Fees to be Borne by Students
N/A
Before Making an Application
Make sure you have thoroughly read the information on this page and the
Academics
page before making an application. If you have a question, email us at
[email protected]
or contact the
VSE Coordinators
at your home university or course offering university,