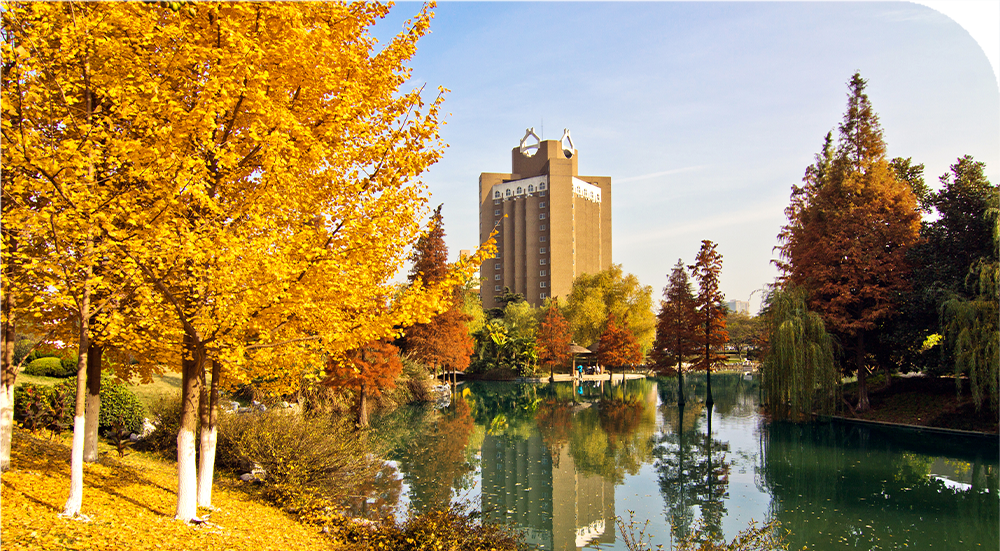 University of Science and Technology of China
Hefei, China
The University of Science and Technology of China (USTC) traces its origins to 1958 when the Chinese Academy of Sciences (CAS) established it in Beijing. It was founded under the goal to cultivate the country's most promising scientific and technological talent. In 1970, USTC was moved to Hefei, the capital city of Anhui Province. Ever since then, this prestigious research university keeps open arms for talents across the globe. Now the university is home to 16,600 gifted students, aspiring scholars and researchers as well as 2,250 faculty members.
USTC, a low-profile university aims high. It has 23 schools (including 6 research institutes) in the fields of natural science and social science, offering exciting opportunities for students to discover more. It owns the most national labs and large-scale scientific facilities. It is the only university in China operating two national labs: the National Synchrotron Radiation Laboratory (NSRL), which is the first national laboratory in China, and the Hefei National Laboratory for Physical Sciences at the Microscale (HFNL), one of the six national research centers approved by the Ministry of Science and Technology (MOST) of the People's Republic of China. USTC has 12 national research institutes, 4 major national scientific research infrastructures, and 62 major provincial research institutes. It represents the highest level of China in fields of fire science, particle detection and electronics, brain-inspired intelligence technology, and speech processing.
USTC is dedicated to bridging the divide by promoting collaboration and building strategic relationship with world-class research universities and institutes. international organizations such as the International Thermonuclear Experimental Reactor (ITER) and the European Organization for Nuclear Research (CERN) have all formed sustainable and strategic partnership with USTC. Meanwhile, the university has attracted prestigious research universities around the world including Oxford, Stanford and Princeton to develop collaborative relationship.
Website: en.ustc.edu.cn

VSE Summer Semester 2021: University of Science and Technology of China (FuSEP International Summer Camp)
Application Deadline
APPLICATION CLOSED
Course Information
Click on the course titles to reveal full course details:
| | |
| --- | --- |
| Number of Credits | 2 |
| Offering Department | School of Physical Sciences |
| Course Teacher | Zhensheng Yuan, Qing Lin, Yu-Ao Chen, Feihu Xu, Zhenyu Wang, Guanglei Cheng, Yiheng Lin, Dongsheng Ding, Wei Yi, Rongjing Zhang |
| Language of Instruction | English |
| First Day of Class | August 2, 2021 |
| Last Day of Class | August 8, 2021 |
| Course Component | Lecture / Tutorial / Discussion |
| Mode of Teaching | Synchronous |
| Meeting Time | Timetable |
| Time Zone | UTC+8 |
| Course Description | Many of the everyday technological inventions derive from discoveries in physics. USTC has achieved remarkable research results, particularly in quantum sciences, condensed matter, astronomy, particle physics and biophysics, our professors will introduce what has been achieved in those field and explore together with students how the world could be rocked by physics. Students may experience quality teaching and hands-on research in this two-week program consisting a series of lecture/seminars, projects, team working and culture events. Students will also have an exceptional opportunity to immerse in a multicultural environment and gain insights into Chinese culture. |
| Course-specific Restrictions | Complete at least one year of undergraduate study at home university in related discipline. |
| Course Outline | Link |
Number of Credits
2
Offering Department
School of Chemistry and Materials Science, Division of Life Sciences and Medicine, School of Information Science and Technology, School of Engineering Science
Course Teacher
CHEN Tao, JIANG Jun, MA Mingming, WU Si, ZHANG Guoqing, FU Binqing, GAO Daxing, JIN Tengchuan, PENG Hui, LI Fengyin, ZENG Zhutian, DU Jun, LIN Zhenhua, HE Xiangnan, CHEN Xun, WANG Jie, ZHANG Yueyi, LI Erqiang, SUN Shuaishuai, SMITH Zachary J., TAN Peng
Language of Instruction
English
First Day of Class
August 2, 2021
Last Day of Class
August 8, 2021
Course Component
Lecture / Tutorial / Discussion
Mode of Teaching
Synchronous
Meeting Time
Timetable
Time Zone
UTC+8
Course Description
How would you compose the future with frontier science and technology? Gathering the best minds in interdisciplinary research, this program will lead you through an incredible tour in science and technology. We will discuss topics about how novel polymers and small molecules play a role in our lives, how our immunity protects ourselves and why sometime they are going crazy, and explore the next generation of speech recognition and synthesis technique and what will be like for the future engineering. This two-week online program consistis of lectures, seminars, projects, group study and culture events. Students will have an opportunity to connect with USTC professors, expand your knowledge, and make friends with USTC peers.

Topics will be focus on Immunity, organic chemistry, functional materials, machine learning, speech recognition & synthesis, blind source separation, modern fluid mechanics, robotics, bioengineering and future energy.
Course-specific Restrictions
Complete at least one year of undergraduate study at home university in related discipline.
Course Outline
Link
*The number of credits is shown as provided by the course offering university, and may not be equivalent to the credits at your home university. Please contact the
APRU VSE Coordinator
of your home university for credit transfer information.
Course enrollment is subject to final approval from your home university and the course offering university.