Recent & Upcoming Programs
2021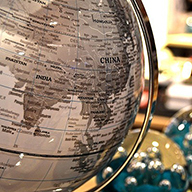 Conversations about our World
Offered by University of Oregon
---
Join University of Oregon faculty for a speakers series during spring term 2021. All events will be held virtually and feature conversations between faculty and speakers from the University of Oregon community and beyond. Topics include indigenous arts, global communications after Covid, and identity in Asian and Asian Studies, and more.
The Power of Indigenous Stories and Art

Apr 9, 2021

I

2pm

Pacific Daylight Time (UTC-7)

Indigenous storytelling and art have long served as important ways for Indigenous peoples to sustain their cultures and traditions. Join this conversation to learn from contemporary Indigenous artist, Crystal L. Buck (Yakama), and Indigenous author, Michelle M. Jacob (Yakama), as they discuss their collaborations across several projects. Learn about what inspires Indigenous artwork and storytelling, and what messages these Yakama women have for our contemporary times. All are welcome at this gathering that honors the power and inspiration of art and stories.

Speakers:


Michelle M. Jacob (Yakama), Professor of Indigenous Studies, College of Education
Crystal L. Buck (Yakama), Artist
---
Changing Geopolitics of Global Communication in a Post-COVID World

Apr 28, 2021

I

6pm

Pacific Daylight Time (UTC-7)

Countries such as China, Russia, and India have contributed to the transformation of the global media and communication landscape, challenging the analytical frameworks of communication studies, which remain deeply embedded within a Western discourse. In a post-COVID multi-polar world, global communication studies may have to broaden its remit. This is especially true with digital communication at a time when global cyberspace is rapidly changing and digital connectivity brings once marginal populations onto the policy discourse, not as aid receivers but as active consumers and producers.

Speakers:


Bish Sen, Associate Professor, School of Journalism and Communication
Daya Thussu, Professor of International Communication, Hong Kong Baptist University
---
Identity, Ambivalence, Homecoming: Travels Between Asian and Asian American Studies

May 13, 2021

I

5pm

Pacific Daylight Time (UTC-7)

This conversation explores the relationship between Asian studies and Asian American studies, reflecting on both the commonalities as well as distinctions between these endeavors. Each of these fields bears a distinct disciplinary orientation—Asian studies derives from Cold War-era area studies and Asian American studies from activist-inspired ethnic studies. How can these different perspectives be brought together productively? Moreover, in an atmosphere of fear caused by the pandemic, racial hostility often blurs the distinctions between "Asian" and "Asian American." How can this moment of common vulnerability renew dialogues between these two fields in a continued endeavor to articulate global justice?

Speakers:


Roy Chan, Associate Professor, Chinese, Department of East Asian Languages and Literatures
Andrew Way Leong, Assistant Professor, Department of English, UC Berkeley
Open to all students from APRU member universities.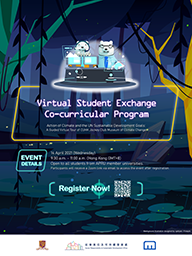 Hong Kong Time

I

Apr 14, 9:30am Seoul & Tokyo Time

I

Apr 14, 10:30am Sydney Time

I

Apr 14, 11:30am Los Angeles Time

I

Apr 13, 6:30pm Santiago Time

I

Apr 13, 9:30pm

Check your local time

here

.

Climate action is a priority and a driver of world affairs. If climate change is left unchecked, it will roll back the development gains we have made over the past decades and will make further gains impossible.

This program takes participants on a virtual guided tour to discover the world's first and foremost climate change museum and explore the potentially devastating effects of climate change. It also introduces the 17 Sustainable Development Goals (SDGs) that are adopted by the United Nations as the blueprint to achieve a better and more sustainable future for all, and why climate action matters.
Open to all students from APRU member universities.
Nobel Laureate's Special Lecture: Economical Profit of Establishing a Renewable Energy-based Society
Offered by Nagoya University
---
Professor Hiroshi Amano of Nagoya University is a materials scientist who was awarded the 2014 Nobel Prize in Physics for inventing blue light-emitting diodes (LEDs). Join Professor Amano in a special lecture about how a carbon neutral society can be established by using new electronics and renewable energy.
Apr 16, 2021

I

1-3pm

Japan Standard Time (UTC+9)

In October 2020, Yoshihide Suga, Prime Minister of Japan, declared the establishment of a carbon neutral society by 2050. Before this declaration, we had already been considering for five years the realization of a carbon neutral society through the use of new semiconductor-based systems. Our strategy is based on the idea put forth by Professor Yoichi Kaya.

According to Professor Kaya, total greenhouse gas emission can be calculated using the following equation:

F=P・(G/P)・(E/G)・(F/E)
• F: global CO2 emissions from human sources
• P: global population
• G: world GDP
• E: global energy consumption
• G/P: GDP per capita
• E/G: energy intensity of the GDP
• F/E: carbon footprint of energy

By 2050, the total population in Japan (P) is expected to be reduced to 3/4 of the current population, while the productivity (G/P) should be increased about 50%. Thus, if the energy intensity of the GDP (E/G) and carbon footprint of energy (F/E) can be reduced to 35% and 10%, respectively, we can reduce the total CO2 emission (F) to 4%, which is almost the same as the total CO2 absorption by forests or plants life in Japan. Then, we can realize a carbon neutral society.

In this special lecture, the reason why renewal energy-based system is beneficial for the countries like Japan will be explained. The way to realize carbon neutral society by new electronics will also be discussed.
Open to all students from APRU member universities. The application deadline is 28 Feb 2021.
Apr 22, 2021

I

6-7pm

Hong Kong Time (UTC+8)

In this music jam session, we are pleased to have student performers from HKUST to share their music with us.

Student performers will take turn to play songs and share their music journey with participants. Interactive discussion groups will be formed for participants to meet new friends via zoom.
Open to all students from APRU member universities. Interested students should register by 21 Apr 2021.
Korean Contemporary Art
Offered by POSTECH
---
This lecture investigates the works of three Korean contemporary artists: Suh Do-Ho, Lee Bul, and Choi Jeonghwa. Prof. Jung-Ah Woo from the Division of Humanities and Social Sciences, POSTECH argues that the three artists have presented disparate modes of dealing with this sense of anxiety and nostalgia in the age of globalization.
May 13, 2021

I

10-11am

Korea Standard Time (UTC+9)

Entering the globalized era at the moment, when the intellectual celebration of post-nationalism firmly established Asia within the new cultural map of the late twentieth century, the works of Korean artists and their seemingly nomadic presence became emblematic of such euphoric concepts as hybrid aesthetics and itinerant identity. After the traumatic rupture of 9/11 and the world financial crisis in late 2008, however, that moment feels almost like a mythical utopia which has been permanently lost. The incessant global military crises and the far-right politics' appalling dominance in some part of the world certainly complicate the understanding of the romantic discourses of hybridity and nomadism which marked the previous century. The artists in this lecture, Prof. Jung-Ah Woo argues, have presented disparate modes of dealing with this sense of anxiety and nostalgia in the age of globalization.

About the Speaker

Prof. Jung-Ah Woo earned her Ph.D. in art history from University of California at Los Angeles (2006), and M.A. (1999) and B.A. (1996) from Seoul National University. She was a Getty Scholar (2018-2019). Her research area is the postwar art of East Asia and the United States with particular interests in collective memory, historical trauma, and identity politics. Her researches were published in the major exhibition catalogues of Korean artist, such as Do-ho Suh, Lee Bul, Choi Jeong Hwa, Inhwan Oh, Kyuchul Ahn, Meekyung Shin, among others. She has published her studies in numerous academic journals including Art Journal, Oxford Art Journal, World Art, and Archives of Asian Art and regularly contributes to the exhibition reviews of Artforum International and www.artforum.com.
Open to all students from APRU member universities. Interested students should register by 10 May 2021.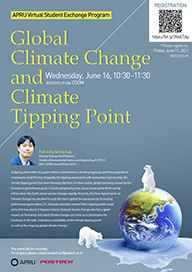 Jun 16, 2021

I

10:30-11:30am

Korea Standard Time (UTC+9)

A tipping point refers to a point where a phenomenon slowly progresses and then explodes in response to small forcing. Originally, the tipping point starts with economics, but recently, the climate tipping point has been drawing attention. In other words, global warming caused by the increase in greenhouse gases is slowly progressing now, but at some point, there can be a time when the Earth where we live changes rapidly. Recently, the Paris Agreements on Climate Change has decided to curb the rise in global temperatures by increasing greenhouse gases below 2℃, because scientists warned that a tipping point could come if it rises above 2 degrees Celsius. Gradual climate change also has a great impact on humanity, but rapid climate change can come as a catastrophe for mankind. In this talk, Prof. Jong-Seong Kug will introduce a possibility of the climate tipping point as well as the ongoing global climate change.

About the Speaker

Prof. Jong-Seong Kug is a professor and Muenjae distinguished professor at the Division of Environmental Science and Engineering, Pohang University of Science and Technology (POSTECH), Korea. After studying climate dynamics for his PhD at Seoul National University in 2003, he worked as a research scientist at University of Hawaii and as a senior research scientist at the Korea Institute of Ocean Science and Technology before joining the POSTECH in 2014. His expertise is in understanding and predicting climate variability and changes. So far, he published more than 180 peer-reviewed paper, and his H-index is 52 with more than 11,000 citations. He was a winner of the Asia Pacific Economic Cooperation (APEC) Science Prize in 2015, and received the presidential award for research excellence in 2018.
Open to all students from APRU member universities. Interested students should register by 11 June 2021.