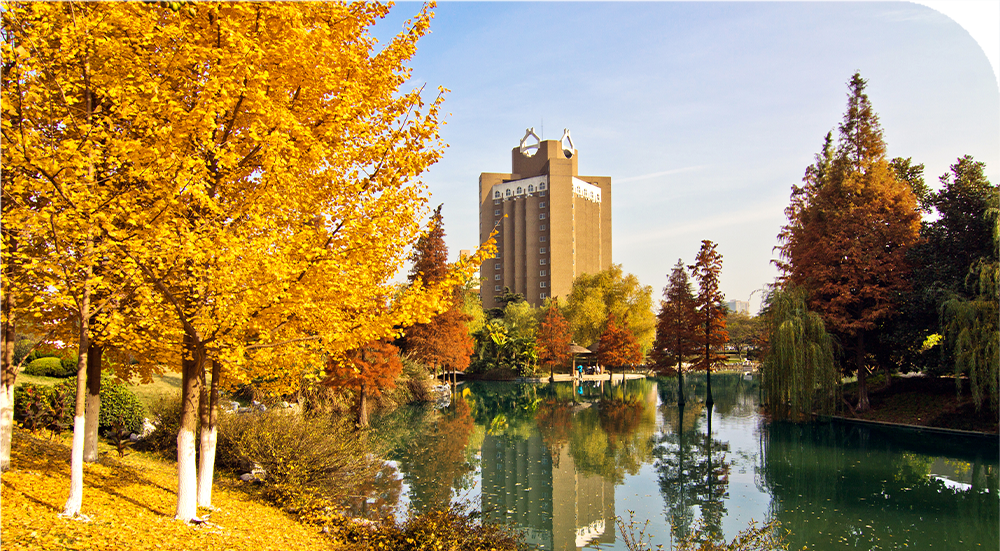 University of Science and Technology of China
Hefei, China
The University of Science and Technology of China (USTC) traces its origins to 1958 when the Chinese Academy of Sciences (CAS) established it in Beijing. It was founded under the goal to cultivate the country's most promising scientific and technological talent. In 1970, USTC was moved to Hefei, the capital city of Anhui Province. Ever since then, this prestigious research university keeps open arms for talents across the globe. Now the university is home to 16,600 gifted students, aspiring scholars and researchers as well as 2,250 faculty members.
USTC, a low-profile university aims high. It has 23 schools (including 6 research institutes) in the fields of natural science and social science, offering exciting opportunities for students to discover more. It owns the most national labs and large-scale scientific facilities. It is the only university in China operating two national labs: the National Synchrotron Radiation Laboratory (NSRL), which is the first national laboratory in China, and the Hefei National Laboratory for Physical Sciences at the Microscale (HFNL), one of the six national research centers approved by the Ministry of Science and Technology (MOST) of the People's Republic of China. USTC has 12 national research institutes, 4 major national scientific research infrastructures, and 62 major provincial research institutes. It represents the highest level of China in fields of fire science, particle detection and electronics, brain-inspired intelligence technology, and speech processing.
USTC is dedicated to bridging the divide by promoting collaboration and building strategic relationship with world-class research universities and institutes. international organizations such as the International Thermonuclear Experimental Reactor (ITER) and the European Organization for Nuclear Research (CERN) have all formed sustainable and strategic partnership with USTC. Meanwhile, the university has attracted prestigious research universities around the world including Oxford, Stanford and Princeton to develop collaborative relationship.
Website: en.ustc.edu.cn

VSE Season 2, 2021-22: Courses offered by University of Science and Technology of China
Application Deadline
Students must submit an application to the VSE Central Office before:
Mar 1, 2022, 12:00 noon Hong Kong Time (UTC+8)
Course Information
Click on the course titles to reveal full course details:
| | |
| --- | --- |
| Number of Credits | 3 |
| Offering Department | Department of Astronomy |
| Course Teacher | Prof. Yifu Cai |
| Language of Instruction | English |
| First Day of Class | Mar 21, 2022 |
| Last Day of Class | Jul 2, 2022 |
| Course Component | Lecture |
| Mode of Teaching | Asynchronous |
| Meeting Time | TBA |
| Time Zone | UTC+08 |
| Restrictions | Knowledge of general relativity |
| Course Description | This is a fundamental course in preparation for the study of astronomy and particle physics and their crossing field. Particle cosmology has been one of the most crucial subject that has made numerous breakthrough since the discover of the cosmic microwave background in 1960s. At present, we already have a standard paradigm of modern cosmology, which is dubbed as the hot big bang theory. However, our knowledge about the universe is still dramatically developing along with the high level developments of observational technologies in precision cosmology. Therefore, how to study cosmology lies in the core of hot topics. Particle cosmology is the disciplinary subject between cosmology and particle physics. In particular, it focuses on the very early moments of the universe where the energy scale is much higher than that any particle experiments could reach. Thus, it can help us to better understand the fundamental knowledge of particle physics as well as the origin of the universe. The setup of this course is to advocate the graduate students majored in astrophysics and theoretical physics to manage the basic knowledge about the cosmology study and to learn the research frontiers. Through this course, the graduate students are expected to access the baseline of professional research in their forthcoming study. |
| Points to Note for Students | N/A |
| Course Outline | TBA |
| | |
| --- | --- |
| Number of Credits | 1 |
| Offering Department | Deapartment of Chemistry |
| Course Teacher | Prof. Hongyang Feng |
| Language of Instruction | English |
| First Day of Class | Mar 20, 2022 |
| Last Day of Class | Jul 1, 2022 |
| Course Component | Lecture |
| Mode of Teaching | Asynchronous |
| Meeting Time | TBA |
| Time Zone | UTC+8 |
| Restrictions | N/A |
| Course Description | Our approach is to teach safety in the chemical laboratory in small TOPICs by MOOC. Here are 36 topics of chemical safety, including videos, ppts, animation, etc. This freedom of learning process is practical and sends the message to students that safety is always important. Each lecture is 8 to 15 minutes and focuses on one topic. The topic is about working with flammable chemicals, a strong acid or an oxidizing agent safely, safe use of the lab emergencies or PPE well, dispose of wastes legally and appropriately and risk assessment for new experiments etc. Each teaching period of "Safety in the Chemical Laboratory" MOOC takes 12 weeks plus one week for examination. Two to three lectures are updated every week online, along with Quiz, Assignment, Discussion, The final exam and Announcement. |
| Points to Note for Students | This is a new unit so unit of study outline will not be published until late 2021/early 2022. Lectures are generally recorded online but tutorials require live attendance. Please note daylight savings will push class times forward one hour in the middle of semester. |
| Course Outline | TBA |
The number of credits is shown as provided by the course offering university. The credit structure at the course offering university may be different from the one at your home university. Please contact the
VSE Coordinator
of your home university for credit transfer information.
Course enrollment is subject to final approval from your home university and the course offering university.