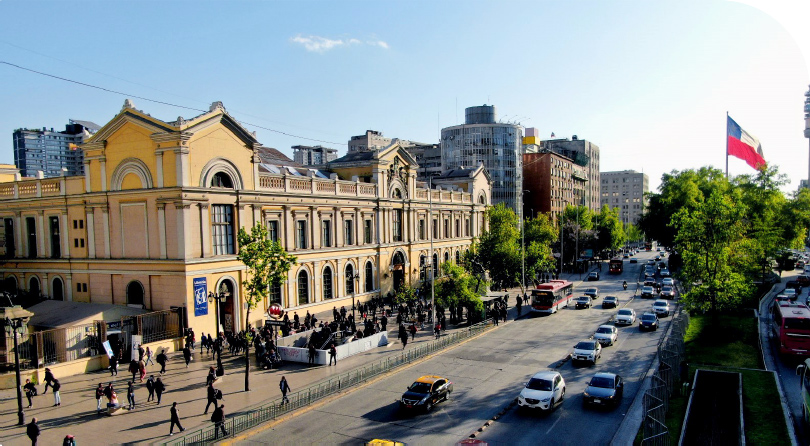 Universidad de Chile
Santiago, Chile
Located in the capital Santiago, the 175-year old Universidad de Chile is the country's oldest and main institution of higher education. In the areas of teaching and research the Universidad de Chile develops about 30% off all scientific and technological research at the national level. It is an autonomous, public and national university.
Since its founding in 1842, the Universidad de Chile's faculty members and its alumni have been a key element in the development of new laws, new institutions and the frame of Chile's social, political, economic, artistic and cultural system. The university, during this period, has had a strong influence in Latin American countries by way of training their human resources.
Among its first Presidents, was the Venezuelan humanist and jurist Professor Andrés Bello (1843-1865), and the Polish scientist & mineralogist Professor Ignacio Domeyko (1867-1883). Located in Santiago, with 19 Chilean Presidents being distinguished alumni. Two Chilean alumni were Nobel Prize winners in Literature – Gabriela Mistral (1945) and Pablo Neruda (1971). The University of Chile has an annual budget of approximately US$ 1.2 billion.
Website: https://uchile.cl/english


VSE Season 1, 2023-24: Courses offered by Universidad de Chile
Important - Read Before Applying
Before applying, please make sure you understand the following enrolment restrictions set by the course offering university:


Virtual transcripts will be issued.
Some classes will not be recorded.
Application Deadline
Students must submit an application to the VSE Central Office before:
Jul 31, 2023 12:00 noon Hong Kong Time (UTC+8)
English Language Proficiency Requirements
Before applying, please make sure you have fulfilled the course offering university's English language proficiency requirements listed below:


For more details, please contact the VSE coordinator at Universidad de Chile.
Course Information
Course information posted on this page are provided by the course offering university and may be changed or updated anytime without prior notice.
Click on the course titles to reveal full course details:
Before Making an Application
Make sure you have thoroughly read the information on this page and the
Academics
page before making an application. If you have a question, email us at
[email protected]
or contact the
VSE Coordinators
at your home university or course offering university.