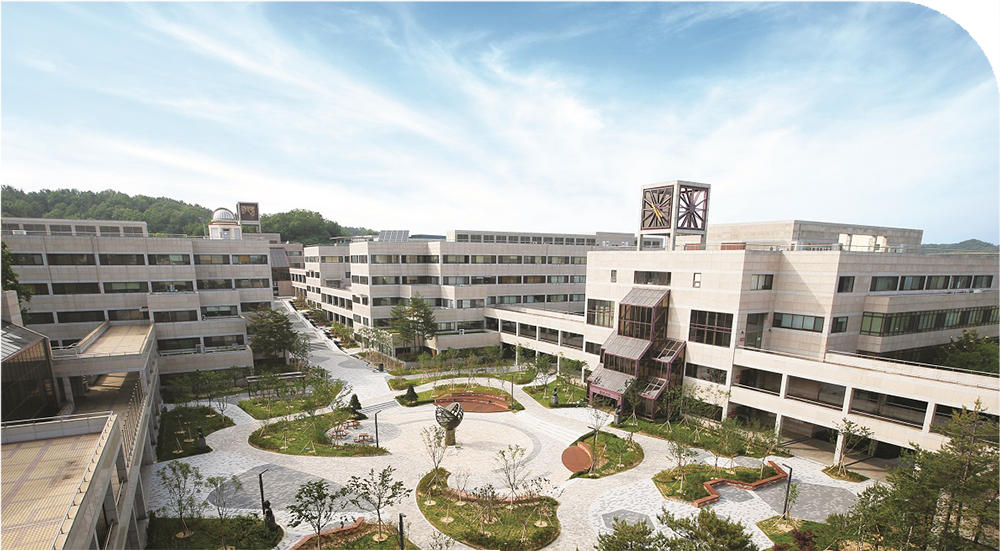 POSTECH
Pohang, South Korea
POSTECH opened its doors in 1986 as the first research-oriented university in Korea to educate the brightest minds in the country and lead the transition of Korea's higher education from dissemination to creation of knowledge. Since its establishment over 30 years ago, POSTECH has taken on numerous challenges and innovations to revolutionize the culture of and raise the bar for scientific research in Korea.
Now, POSTECH is poised to take another leap forward over the next three decades. Driven by the open and fearless spirit to tackle the unknown, it will serve as a flagship university that proposes a new role for value creation in society. POSTECH will continue to dedicate itself to its mission of providing the finest education and fostering talented youth into leaders equipped with a comprehensive and essential skill set for the future. Also, we will further build upon the research excellence POSTECH has achieved thus far to make direct contributions not only in expanding boundaries of scientific knowledge but also in leading the socio-economic progress of the country and region.
Website: http://postech.ac.kr/eng/

VSE Season 1, 2021-22: Courses offered by POSTECH
Application Deadline
APPLICATION CLOSED
Students must submit an application to the VSE Central Office before:
Jul 23 2021, 12:00 noon Hong Kong Time (UTC+8)
Academic Requirements
Before applying, please make sure you have fulfilled the course offering university's academic requirements listed below:

GPA of B (3.0) or above

For more details, please contact the VSE coordinator at POSTECH
English Language Proficiency Requirements
Before applying, please make sure you have fulfilled the course offering university's English language proficiency requirements listed below:

TOEFL iBT 79,

IELTS 6.0, or above

(may be substituted with equivalent proof documents)

For more details, please contact the VSE coordinator at POSTECH
Course Information
Click on the course titles to reveal full course details:
| | |
| --- | --- |
| Number of Credits | 3 |
| Offering Department | Convergence IT Engineering |
| Course Teacher | Prof. Eunjeong Ma |
| Language of Instruction | English |
| First Day of Class | Sep 6, 2021 |
| Last Day of Class | Dec 15, 2021 |
| Course Component | Discussion |
| Mode of Teaching | Synchronous/Asynchronous |
| Meeting Time | Mon, Wed 1530-1710 |
| Time Zone | UTC+9 |
| Restrictions | In the era of artificial intelligence, climate change, and pandemic, technical issues are wrapped up with complicated and complex social, political, and ecological issues, and technoscience has emerged as ever more crucial resources to provide solutions to social problems. Though engineering skills and knowledge are right resources to tackle contemporary social problems, it is also true that the possession and distribution of such technical resources can create or resolve inequalities or injustice within or across society. This course critically reviews the interrelationship between technology and society and redefines the role of technology with respect to humans and society. The course also addresses the ways to combine social scientific research methods and humanistic insights with the design and implementation of technology. Building on such understanding, the course expects students to design a socially just technology. |
| Points to Note for Students | The class is based on the idea of project based learning. |
| Course Outline | Download |
Number of Credits
3
Offering Department
Mathematics
Course Teacher
Prof. Jae-Hun Jung
Language of Instruction
English
First Day of Class
Sep 6, 2021
Last Day of Class
Dec 22, 2021
Course Component
Lecture
Tutorial
Mode of Teaching
Synchronous
Synchronous
Meeting Time
Mon, Wed 1400-1515
Mon, Wed 1400-1515 (In class)
Time Zone
UTC+9
Course Description
Data science is one of the most growing scientific disciplines today. This course will introduce various mathematics related to modern data science. The subjects that will be covered during the semester include Introduction to data science and big data, Preprocessing of data, Interpolating data, Classification of data, Generating scheme of data, Text, sound, and image data, Stochastic and chaotic characteristics of data, data-driven computing, Topological and geometrical understanding of data, Manifold representation of data, Artificial intelligence and data, Data analysis with Python and visualization, etc. The class is composed of lecture and tutorial sessions. Each class will provide both the theoretical and practical (computational) aspects of data science with hands-on tutorialsin Python. Weekly homework will be assigned.
Points to Note for Students
There will be no final exam, but the final research project is required.
Course Outline
Download
The number of credits is shown as provided by the course offering university. The credit structure at the course offering university may be different from the one at your home university. Please contact the
VSE Coordinator
of your home university for credit transfer information.
Course enrollment is subject to final approval from your home university and the course offering university.