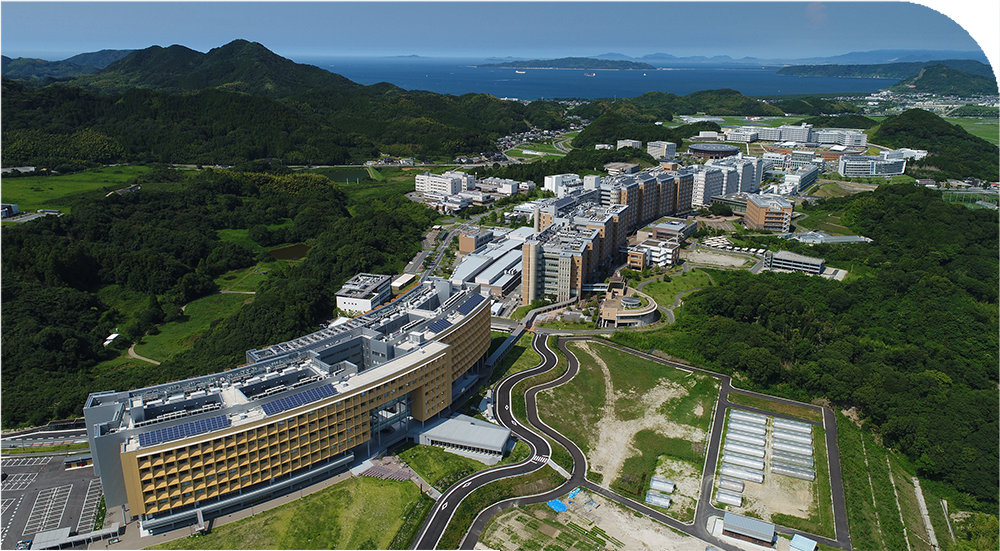 Kyushu University
Fukuoka, Japan
Founded in 1911, Kyushu University is a leading research-oriented institute of higher education in Fukuoka, which is historically renowned as Japan's gateway to Asia for profound cultural and economic interactions due to its geographical proximity to continental Asia. The University celebrated its first centennial anniversary in 2011 and is taking bold steps forward into its second century.
With an enrollment of nearly 20,000 students, it is comprised of 12 undergraduate schools, 18 graduate schools, 17 faculties, 5 research institutes, and a hospital, as well as over 50 affiliated research centers. The international student population is more than 2,300, representing about 100 countries and reflecting our steadfast commitment to internationalization.
The new, state-of-art Ito Campus is designed for the development of the next-generation technologies, with particular focus on the environment and energy-related research. Blessed with an abundance of nature and history, this new campus is a comprehensive research center that reflects our high regard for the preservation of green areas, groundwater, landscape, and historical remains, and has achieved harmonious co-existence with its surrounding natural environment.
Kyushu University has maintained a long history and tradition of education and research as one of Japan's core comprehensive national universities. We are recognized for our extensive contributions to society in fostering professional excellence and producing highly specialized research findings.
Website: www.kyushu-u.ac.jp/en

VSE Season 2, 2021-22: Courses offered by Kyushu University
Application Deadline
Students must submit an application to the VSE Central Office before:

Feb 28, 2022 12:00 noon Hong Kong Time (UTC+8)
Course Information
Click on the course titles to reveal full course details:
Number of Credits
1
Offering Department
International Student Center, College of Asia Pacific program
Course Teacher
Prof. Hiroko Kinoshita
Language of Instruction
Japanese and English
First Day of Class
Apr 15, 2022
Last Day of Class
Jun 10, 2022
Course Component
Lecture/Discussion
Mode of Teaching
Synchronous
Meeting Time
Fri 1830-2000
Time Zone
UTC+9
Course Description
This course is an online course designed for undergraduate students majoring in Japanese studies or studying Japanese language at APRU member universities. Students will learn about Japanese society and culture, as well as common issues in the Asia Pacific region, together with Japanese students. The course focuses on discussions with Japanese students, providing a chance for students from different cultural and social backgrounds to learn from each other. Lectures will be given in both English and Japanese.
Restrictions
・Japanese language proficiency: Intermediate or higher (ex. JLPT N3 or higher)
・High interest in Japanese culture/language, and social issues in the Asia Pacific region.
・Must be able to attend all lectures throughout the course period.
Points to Note for Students
If you have a Japanese language proficiency of less than JLPT N3, but strongly wish to participate, please consult with the VSE Coordinator at Kyushu University in advance.
Course Outline
Link
The number of credits is shown as provided by the course offering university. The credit structure at the course offering university may be different from the one at your home university. Please contact the
VSE Coordinator
of your home university for credit transfer information.
Course enrollment is subject to final approval from your home university and the course offering university.