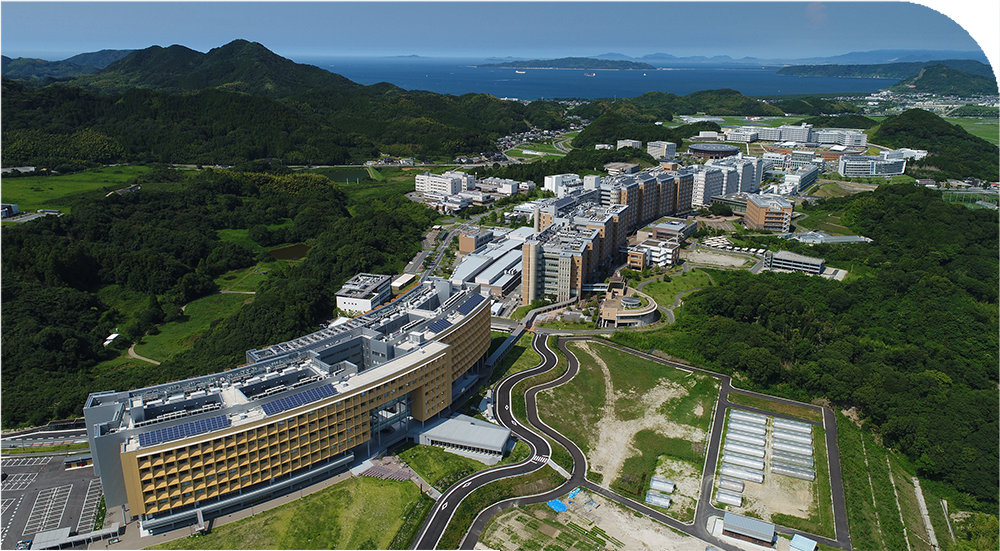 Kyushu University
Fukuoka, Japan
Founded in 1911, Kyushu University is a leading research-oriented institution of higher education located in Fukuoka, which is historically renowned as Japan's gateway to Asia for profound cultural and economic interactions due to its geographical proximity to continental Asia. The University celebrated its first centennial in 2011 and is embarking on its second century with bold steps.
Kyushu University is comprised of 12 undergraduate schools, 18 graduate schools, 17 faculties, 5 research institutes, and a hospital, as well as over 50 affiliated research centers. With an enrollment of nearly 20,000 students, the over 2,200 international students represent about 100 countries, reflecting the university's steadfast commitment to internationalization.
In November 2021, Kyushu University was selected as a Designated National University Corporation by the Ministry of Education, Culture, Sports, Science and Technology (MEXT). As a Designated National University Corporation, Kyushu University will play an active role in tackling pressing social and global issues by leveraging its strengths in the fields of "decarbonization", "medicine and health" and "environment and food". Additionally, Kyushu University will advance education, research, and medical care through digital transformation, strengthen connections between education, research, and society, and expand its international collaboration.
Website: http://www.kyushu-u.ac.jp/en


VSE Season 2, 2023-24: Courses offered by Kyushu University
Important - Read Before Applying
Before applying, please make sure you understand the following enrolment restrictions set by the course offering university:

Applicants to courses offered by Kyushu University at VSE Season 2, 2023-24 are required to complete an additional Kyushu University Online Registration Form after submitting the VSE application.
Application Deadline
Students must submit an application to the VSE Central Office before:
Dec 3, 2023 12:00 noon Hong Kong Time (UTC+8)
Course Information
Course information posted on this page are provided by the course offering university and may be changed or updated anytime without prior notice.
Click on the course titles to reveal full course details:
Number of Credits
1
Offering Department
International Student Center, College of Asia Pacific Program
Course Teacher
Hiroko Kinoshita
Language of Instruction
Japanese, English
First Day of Class
Jan 15, 2024
Last Day of Class
Jan 26, 2024
Course Component
Lecture/Discussion
Mode of Teaching
Synchronous
Meeting Time
Jan 15, 19, 22, 26 2024 (2 classes per day) 1400- 1700
Time Zone
UTC+09
Course Description

This course is an online course designed for undergraduate students majoring in Japanese studies or studying Japanese language at APRU member universities. Students will learn about Japanese society and culture, as well as common issues in the Asia Pacific region, together with Japanese students. The course focuses on discussions with Japanese students, providing a chance for students from different cultural and social backgrounds to learn from each other. Lectures will be given in both English and Japanese.

Course Outline
Course Prerequisites/Restrictions

Japanese language proficiency: Intermediate or higher.
High interest in Japanese culture/language, and social issues in the Asia Pacific region.
Must be able to attend all lectures throughout the course period.

Optional: If you have any proof of Japanese language proficiency, please submit a copy of certificate or related document when you apply for the course.

Points to Note for Students

If you have a concern about Japanese language proficiency, but strongly wish to participate, please consult with the VSE Coordinator at Kyushu University in advance.

Fees to be Borne by Students

N/A
Before Making an Application
Make sure you have thoroughly read the information on this page and the
Academics
page before making an application. If you have a question, email us at
[email protected]
or contact the
VSE Coordinators
at your home university or course offering university.