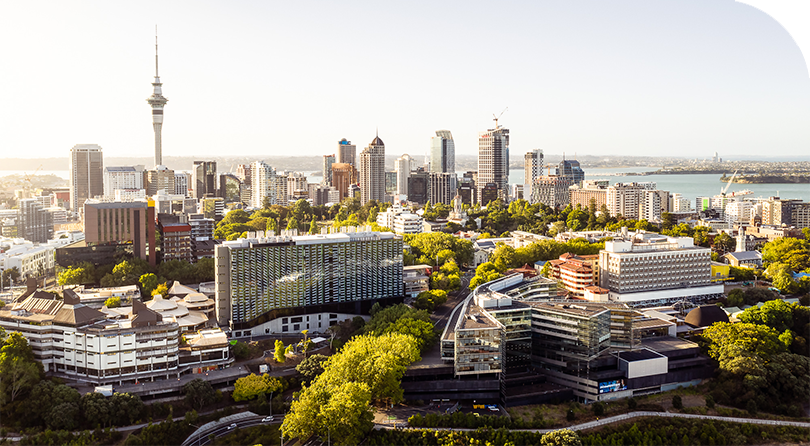 The University of Auckland
Auckland, New Zealand
The University of Auckland is New Zealand's largest and most highly ranked university with a global reputation for academic excellence. As a top-ranked university in New Zealand, the University of Auckland is a large research-driven university with diversity and innovation as its strengths. Formally opened in 1883 as Auckland University College, the University now has more than 46,000 students across seven campuses including more than 8,000 international students from over 100 countries.
Regarded as New Zealand's leading university (68th in QS World University Rankings 2024), the University of Auckland offers study programmes over a wide range of disciplines while continuing to diversify its array of programmes at all levels. With more than 180 partner universities worldwide, the University of Auckland collaborates on research that positively impacts the Asia-Pacific region and the world at large. In 2023, the University was ranked 12th globally in the Times Higher Education University Impact Rankings for progress towards the Sustainable Development Goals.
Degrees earned at the University of Auckland are globally respected and graduates are considered highly employable, both locally and internationally. The university is ranked 68th in the world for graduate employability (QS Graduate Employability Rankings 2022). Students at the university learn from outstanding teachers, many of whom are world leaders in their field. The university has been acknowledged by the MIT Skoltech Initiative as one of the top five global emerging entrepreneurship leaders.
Website: https://www.auckland.ac.nz/en.html


VSE Season 2, 2023-24: Courses offered by The University of Auckland
Important - Read Before Applying
Before applying, please make sure you understand the following enrolment restrictions set by the course offering university:

A copy of passport identification page has to be submitted to the course-offering university.
Application Deadline
Students must submit an application to the VSE Central Office before:
Dec 31, 2023 12:00 noon Hong Kong Time (UTC+8)
Academic Requirements
Before applying, please make sure you have fulfilled the course offering university's academic requirements listed below:


GPA of 2.7 out of 4 or average B- equivalency

Minimum one year completion at a degree level study


For more details, please contact the VSE coordinator at The University of Auckland.
English Language Proficiency Requirements
Before applying, please make sure you have fulfilled the course offering university's English language proficiency requirements listed below:


IELTS (Academic) 6.0 (no less than 5.5 in all bands), or
TOEFL total 80 (with minimum 21 in writing), or
A number of other English language test results – please see our website for more details.
IELTS Online test results are acceptable


For more details, please contact the VSE coordinator at The University of Auckland.
Course Information
Course information posted on this page are provided by the course offering university and may be changed or updated anytime without prior notice.
Click on the course titles to reveal full course details:
Number of Credits
15
Offering Department
Faculty of Arts/School of Cultures, Languages and Linguistics
Course Teacher
Nicole Perry
Language of Instruction
English
First Day of Class
Feb 29, 2024
Last Day of Class
May 31, 2024
Course Component
Lecture/Tutorial
Mode of Teaching
Asynchronous
Meeting Time
N/A
Time Zone
UTC+13
Course Description
This course examines the ever-changing relationship between the German-speaking nations of Central Europe and their connection with the South Pacific, including Aotearoa, Sāmoa and Tonga. This course will be broken down into two key sections: 

1) German Colonialism in the South Pacific situated in the broader context of German Colonialism and settler colonialism. We will consider the impact of Germany in the South Pacific through colonial photography and read the colonial and travel writing of two women about their experiences in Aotearoa and Sāmoa before and after the First World War. Contemporary film, art, and fiction set in the South Pacific will also be examined. 

2) The South Pacific in Central Europe- reframed and reclaimed? From the Peoples Shows in the 19th Century to contemporary theatre, film, and art; this section will look at how the South Pacific has claimed their space in Central Europe. Excerpts from From Samoa with Love? Samoan Travellers in Germany 1895-1911: Retracing the Footsteps (2014) will allow us to consider the legacy of the Völkerschauen/People's Shows alongside the controversial Humboldt Forum and the current debates surrounding museums and museum repatriation. The analysis of South Pacific contemporary art, poetry, film, and guest lectures will allow us to fully consider the ongoing dynamics of the Central Europe and South Pacific connection.
Course Outline
Course Prerequisites/Restrictions

N/A

Points to Note for Students

N/A

Fees to be Borne by Students

N/A
Before Making an Application
Make sure you have thoroughly read the information on this page and the
Academics
page before making an application. If you have a question, email us at
[email protected]
or contact the
VSE Coordinators
at your home university or course offering university.